Part one is here.  I have no idea what this little guy was but he was the cutest thing.  We nicknamed him the Lorax, we can't be the only ones to come up with that name.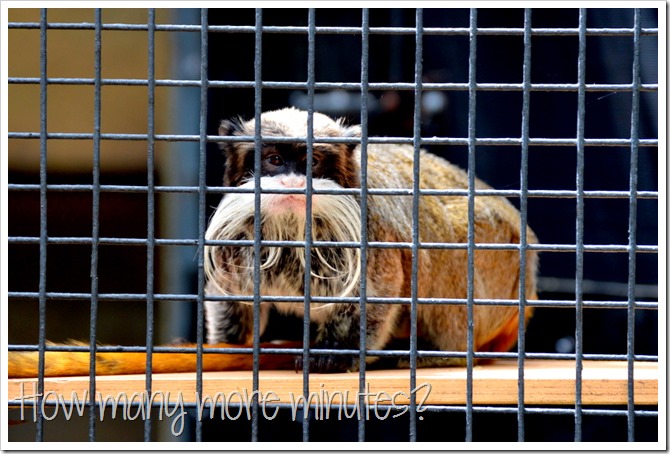 Then we found the lemurs and we spent forever watching them.  There was a young one who was very playful and he kept picking on his older sibling (it looked to small to be dad) while mum looked on.  They played and wrestled and jumped from tree to tree.  We stayed for quite some time, giggling at their antics.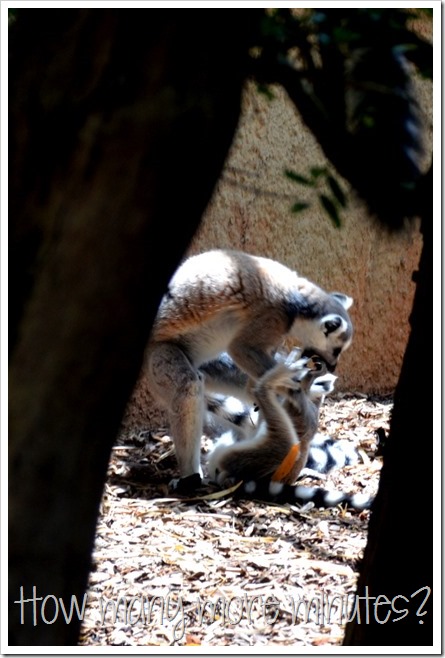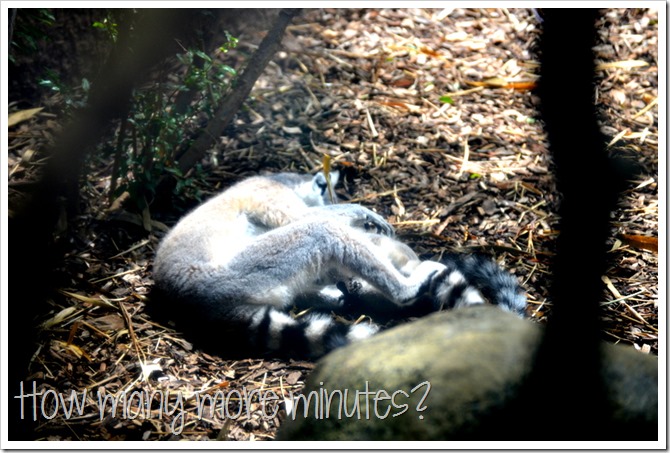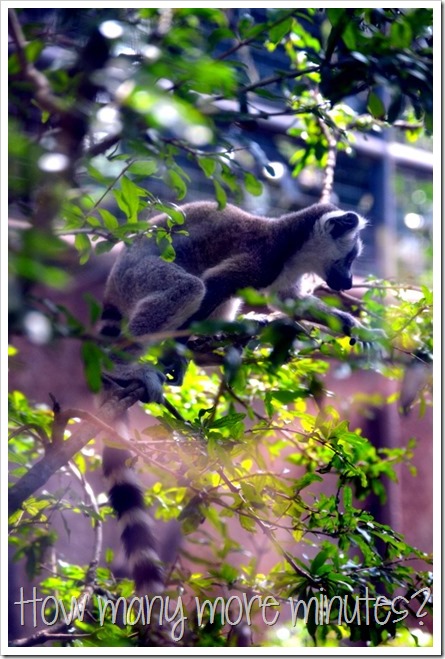 LadyBug waited patiently for her turn in this car, so I'd better include this picture!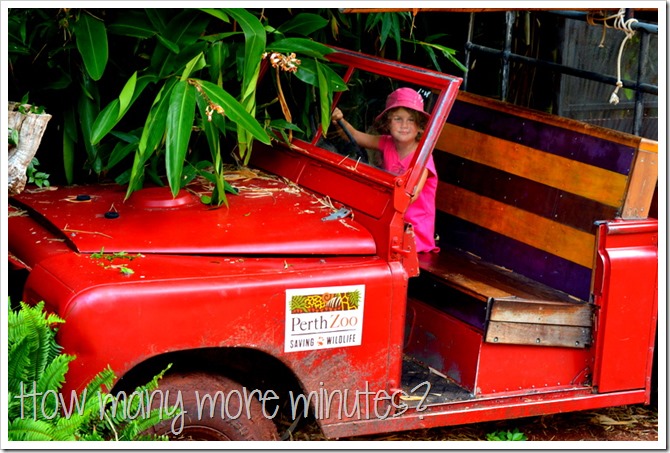 Then it was time to see the orangutans.  They have quite the set up.  The Perth Zoo has bred 29 orangutans which is quite the feat considering they have nearly a decade between births.  They're also critically endangered.  They were lovely to watch but hard to get a good look at without binoculars or a good zoom on your camera.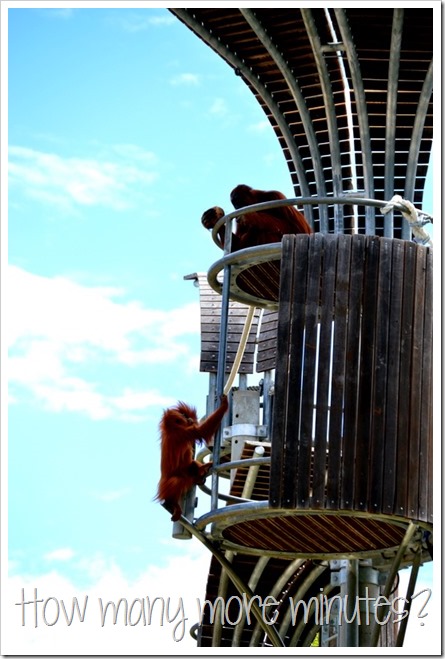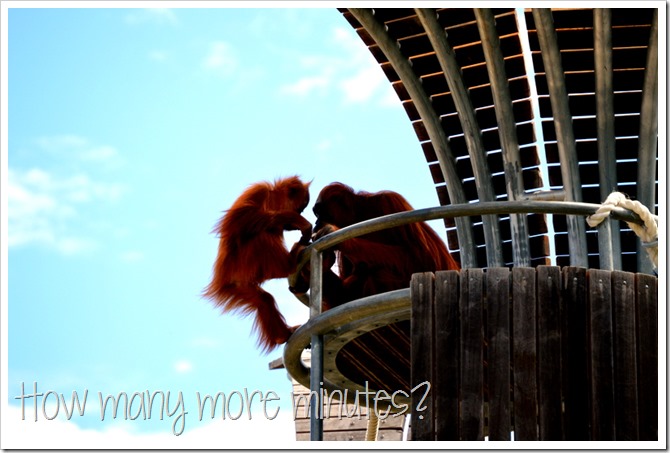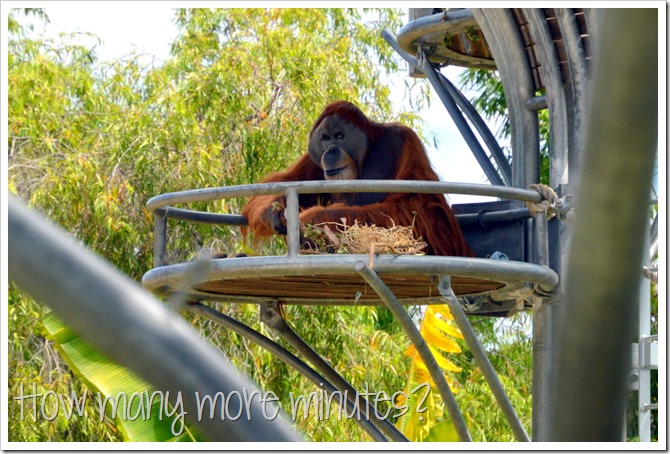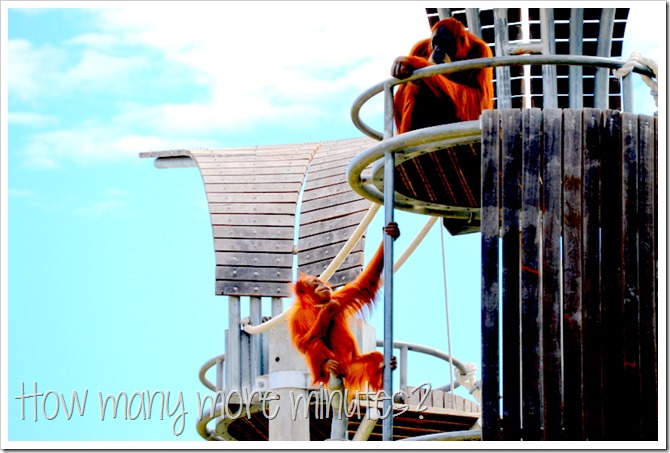 They have a family tree chart nearby and it was interesting to see which had been born at the zoo, how old they were, how many babies they'd had, etc.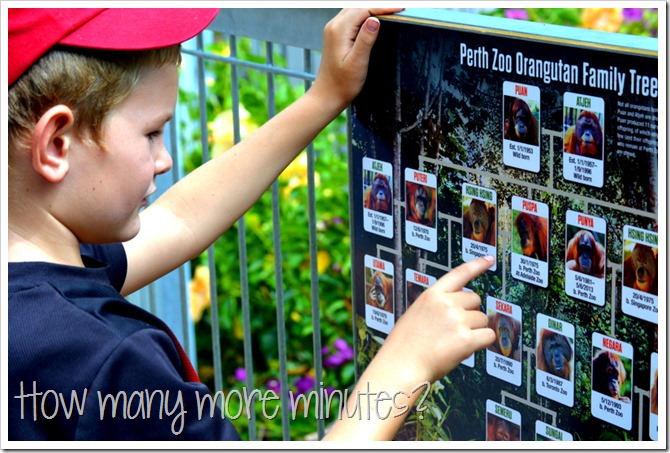 I didn't catch the story behind this crate but I guess it's what they transport the orangutans in when they need medical attention.  LadyBug waited patiently for her chance in this one as well.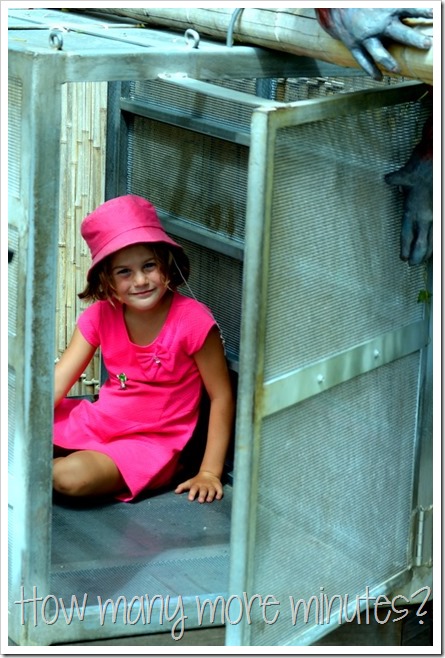 You really couldn't get close to the giraffes unless you paid extra for a chance to see them eye-to-eye and feed them.  Disappointing, especially since children had to be age 4+ which meant TurboBug couldn't have joined us if we'd chosen to do it.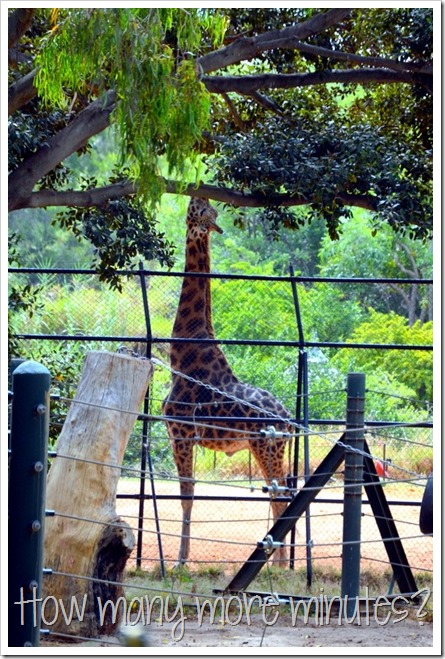 One of the beautiful tigers was pacing.  I used to absolutely love tigers as a teen, they are so beautiful.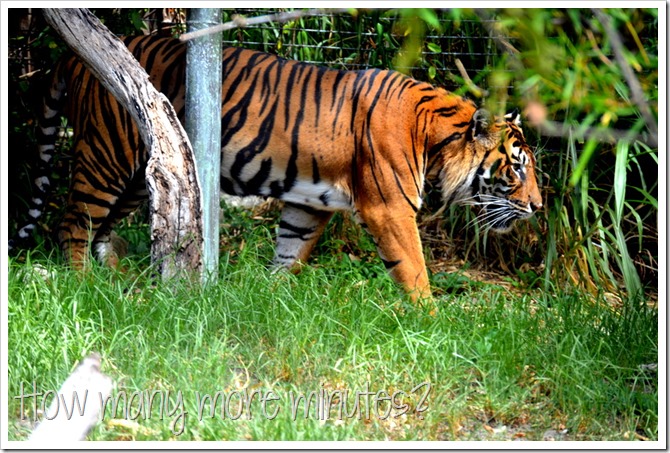 We were just in time to see the keepers interacting with the elephants.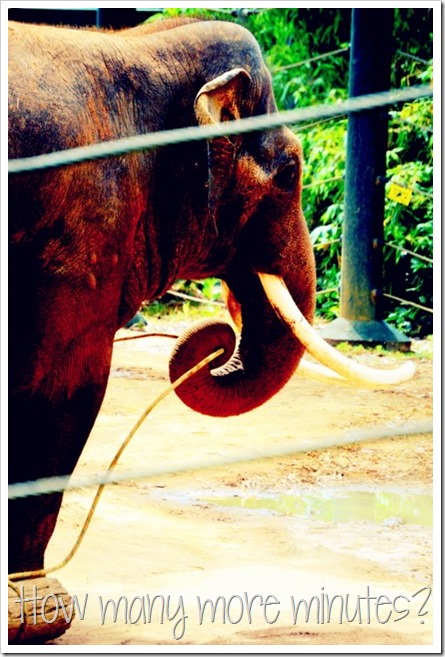 This one got to have a play in the water while the keeper threw the ball for her (him?).  We joined the crowd watching, TurboBug, as always, had the best view!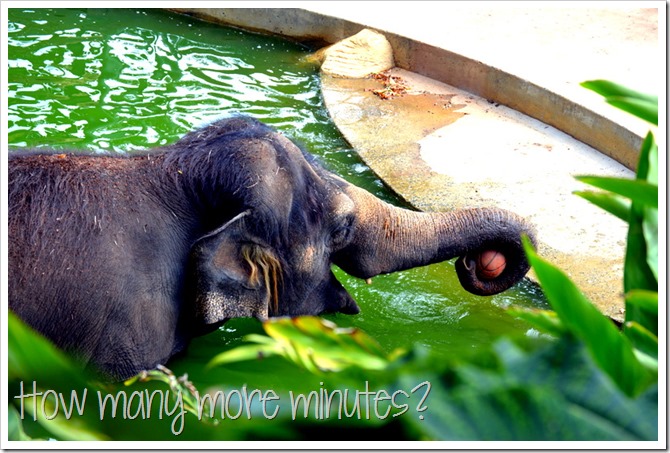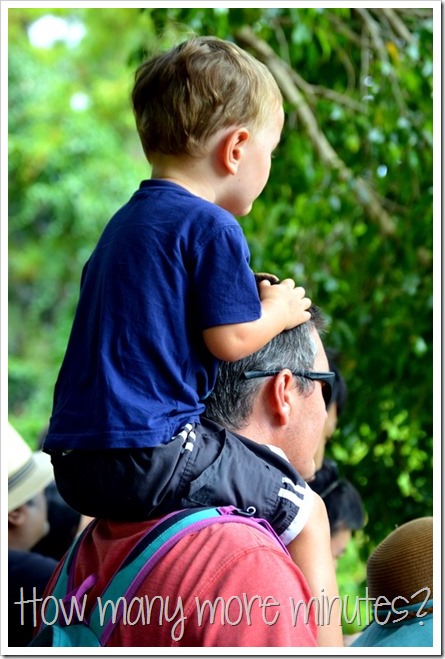 We had a quick stop in the reptile house, I don't remember much of it now, but can you imagine seeing one of these in the wild?  Yikes!  We've come across a couple of wild goannas in our travels but nothing this large!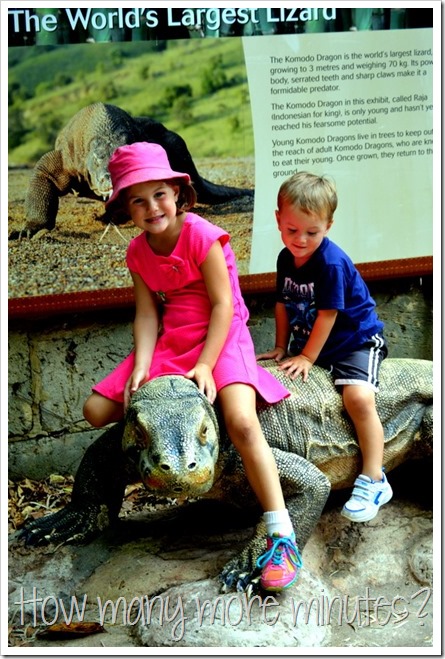 Then back to the front where I got to see the lovely pelicans again.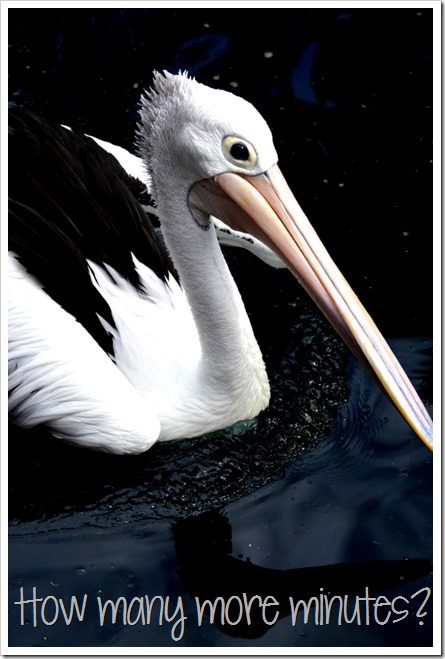 What trip to the Perth Zoo would be complete without a picture on the kangaroo statue?  One child is missing because he'd misplaced his sunnies and had to be escorted back through the zoo by a thrilled parent to find them (which they did).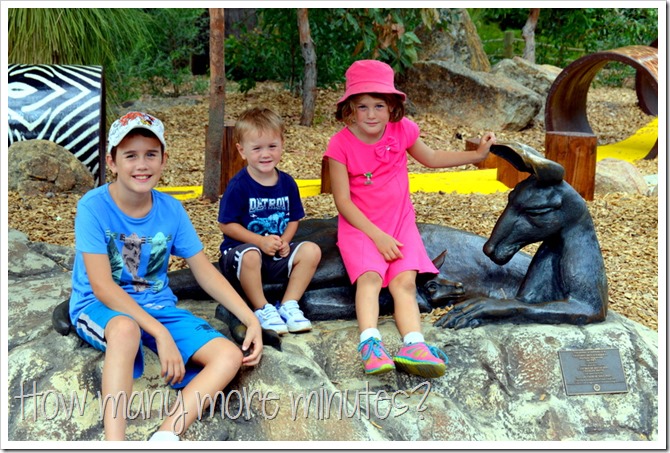 We collected our souvenir gold coin from the machine near the shop and we were done.  Now for that long walk back to the car which isn't so bad at the beginning of the day but by the time you've walked through the whole zoo it seems very far away.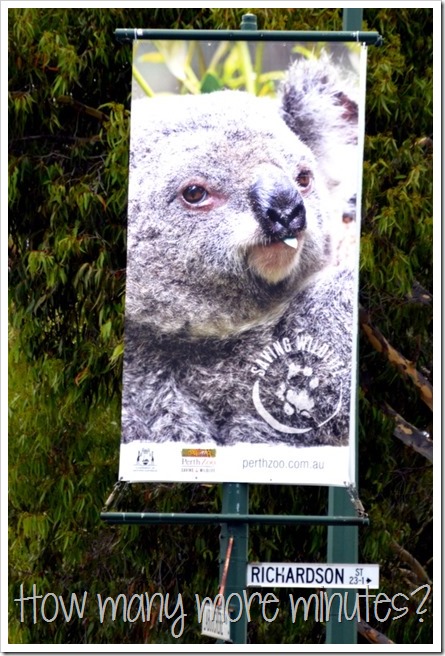 When we arrived that morning and showed our membership card for the Melbourne Zoo the lady excitedly asked me about the butterfly house.  I drew a blank for a moment, it's been a very long time since we've been to the Melbourne Zoo and I immediately pictured the butterfly sanctuary we'd visited in Kuranda up in Queensland.  I thought it would sound funny to say we hadn't been to the Melbourne Zoo in such a long time since we had the membership.  We'll remedy that when we return to Victoria!