The day we arrived in Pemberton we stopped into the visitor centre for some information.  We were so surprised to find a room full of kangaroo joeys all curled up in baskets.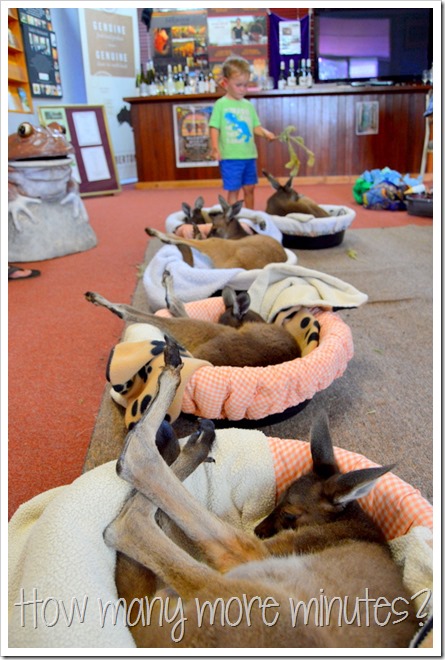 A woman had been bottle feeding them, had worked her way through all but one so they'd all just had a nice feed and were very content to lounge in their comfy baskets.  There were some leaves around to feed them but they weren't real keen since they'd just had their bottles.  TurboBug (2.5) was able to interest one of them but I'm not sure we ever got any others to eat.  We found it interesting to see the padding that runs from their feet up the back of their lower leg.  Kangaroos spend a lot of time sitting on their lower legs.  We've never gotten to observe that in a grown kangaroo since you don't really want to approach them from behind!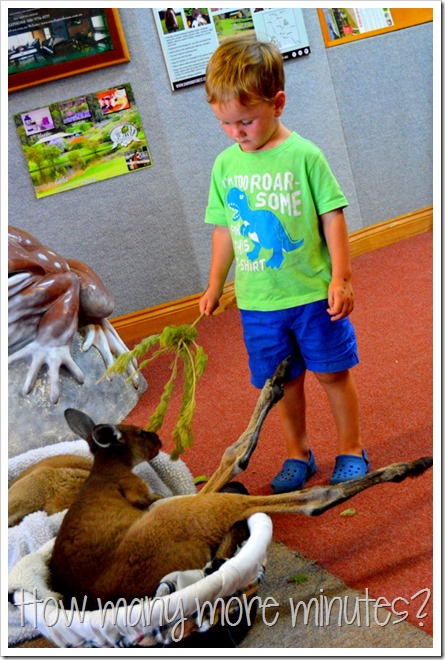 I ran back to the car for my camera and when I came back through the door I noticed a sign that I hadn't noticed the first time.  It warned that baby kangaroo joeys were wandering around inside and to please close the door quickly so they don't escape!  There was no danger of that while we were there, they were all dozing.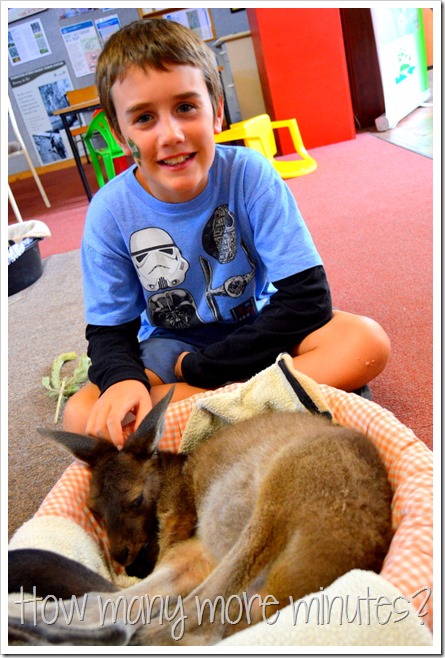 They were quite comfortable with us petting them and didn't seem to care about how much noise we made.  We were told they were all rescued from their mothers' pouches after the mothers had died.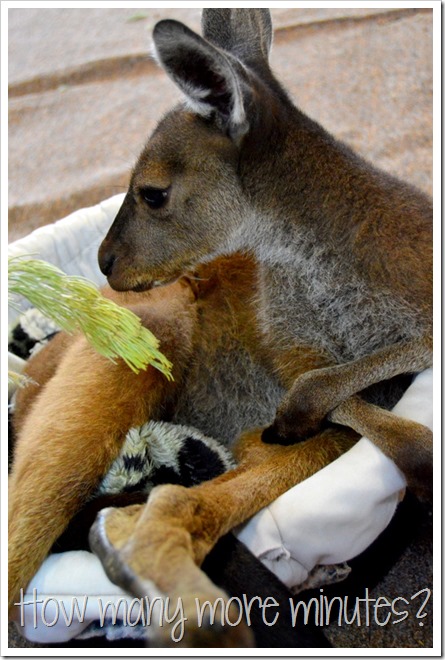 This is the youngest one which she said may have been about nine months old.  I'd just been reading that koala joeys don't stick their heads out of the pouch until they are five to six months old so I was curious about when a kangaroo joey first appears.  From what I can find out they don't leave the pouch until eight months and by ten months they are too big to get back in.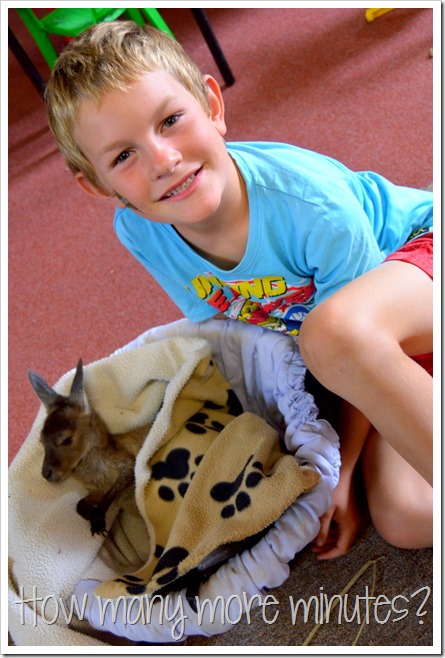 This little kangaroo made quite the mess in its basket and she had to change the blankets.  That got me wondering about those pouches, does the mother kangaroo clean it out or is it all absorbed?  From what I can find out it seems to be a bit of both.  A bit is absorbed and the mother kangaroo will use her snout and tongue to clean out the rest.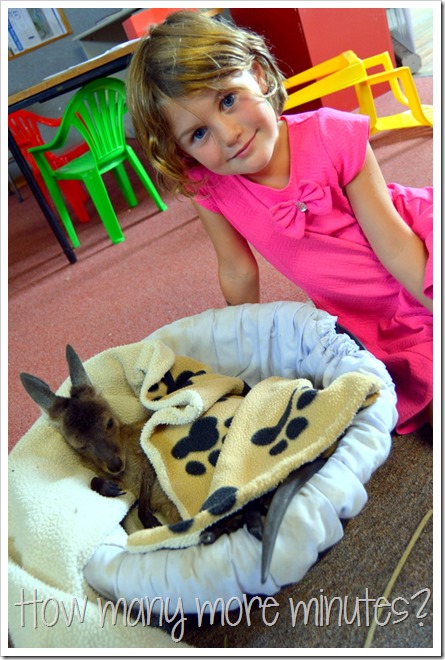 Aren't they cute?  The tail on this one was different than all the others, it didn't have all the fur on it yet.  It felt almost rubbery.  Look at those claws!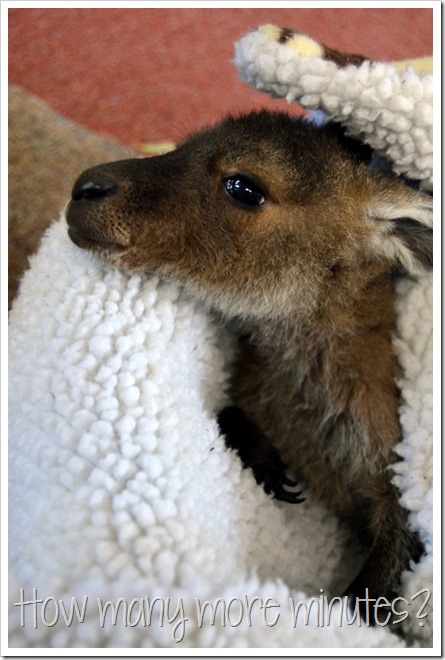 JitterBug (8) wanted me to take a picture of him with every single joey.  Um, we didn't quite make it to all of them.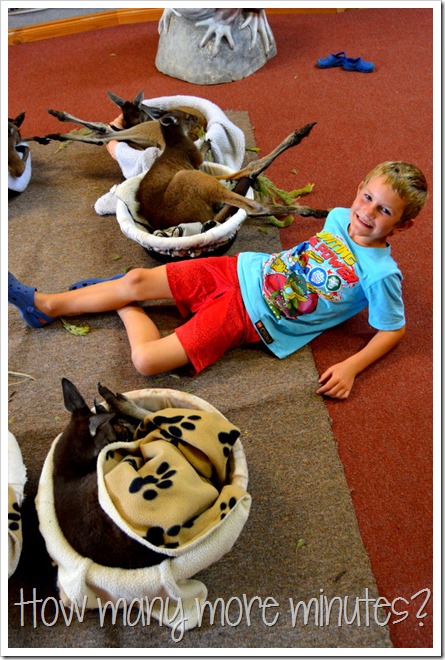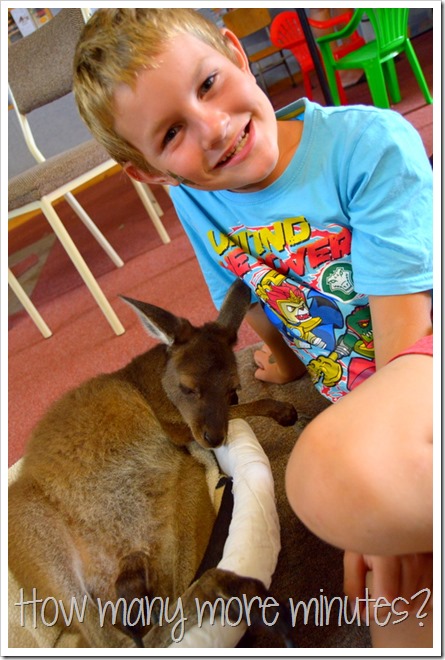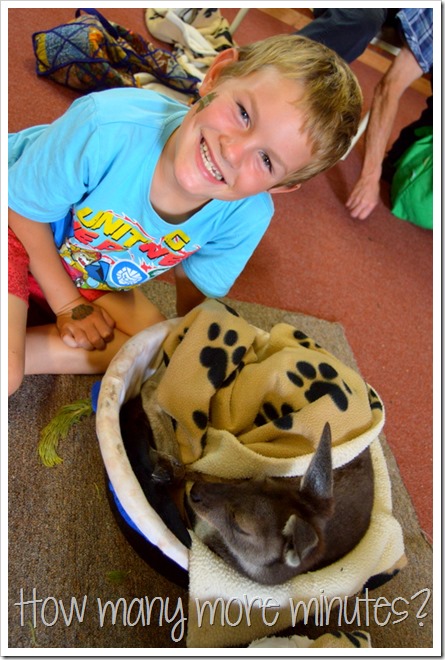 TurboBug was fascinated.  They were so, so soft and lovely to pet.  It's a pity none of them were up and moving around, he would have loved that.  Kangaroos just his size.  But we got to see one of them being bottle-fed, which was adorable.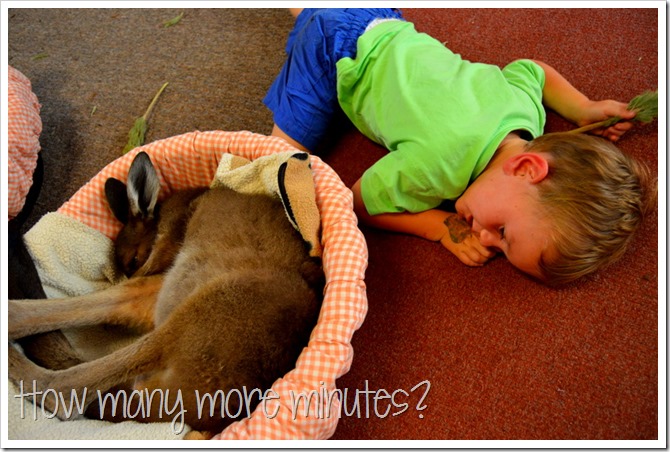 They bring the kangaroos to the visitor centre twice a week during school holidays.  We were lucky to be there on the right day!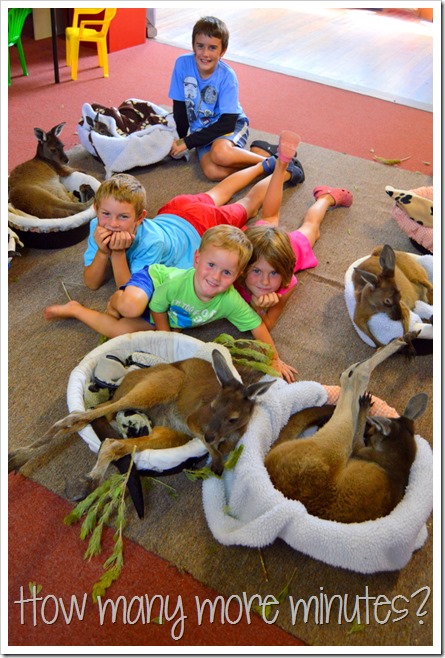 Ever the comedian, my darling 8yo made sure we got a picture of the nearby frog.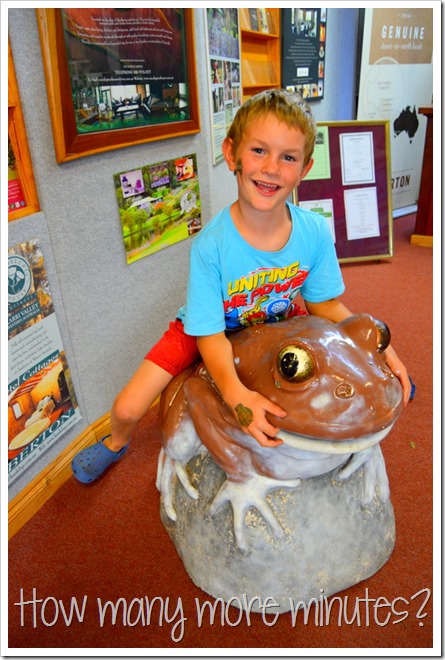 I was so happy we happened to be there on the right day.  We've seen plenty of kangaroos on this trip and gotten to feed a few, but this was our first encounter with young joeys.  So cute!